My team and I would love to share our favorite Boston Wedding Venues!
Most of my photography and videography team are all Boston born and bred. We eat cannolis, love clam chowder, are experts at navigating the mean streets. Though we're not all die-hard sports fans, we have a joint disdain of specific teams that we've been brainwashed to hate.
As a vendor, I get an insider view of how Boston wedding venues are managed, organized, and executed. All event planners will know that there's so much than what meets the eye. I have utmost respect for those in the planning and hospitality industry. I am consistently impressed by event teams, and I wanted to give specific Boston Wedding Venues teams a shoutout for doing an excellent job at taking care of wedding couples. Their work is not only on their special day, but also months and years leading up to it.
How to choose a Boston wedding venue
Figure out an approximate guest count

Make a wedding guest list of family and friends and separate them into lists, in order of priority. This will help so that if you know you must have at 150 must-invite guests, that the smaller venues that only host 75 guests max will not be an option. 

Pick a general geographic area  

Is there a state you'd like to have your wedding? A city? North of the city? South of the city? 

List out your deal breakers and must-haves

Do you and your family require a specific caterer for cultural foods? Do you want a venue that also has on-site accommodation for out of town guests? Are you married to the idea and convenience of having the ceremony and the reception in the same location? Do you require an ADA accessible elevator?

Decide on a venue style 

Couples with visions of a luxurious ballroom often are not interested in rustic farms. Other venues styles include: estates, museums, libraries, hotels, castles, tents, backyards, villas, aquariums, sporting arenas, parks, zoos, etc. 

Research the venues online

Take a look at lists online (like this one) to check out photos of previous weddings that they've hosted. Read reviews from previous couples that have been married there. 

E-mail or call the venues

Ask basic questions like available dates, how many guests the venue can hold, what the menu prices range from, basic costs per person, additional fees (taxes, gratuity, police and bartender fees, service fees, etc.)

Tour the Boston wedding venues in person 

There's nothing like seeing the space in person! Take a walk around. Identify the flow of where guests will be if they arrive early to the ceremony. Where will the cocktail hour be? How does parking look and feel? Is the venue easy to find?

Ask about the rain plan

Boston's weather is unpredictable. Yes, an outdoor ceremony in the gardens is a dream, but I advise my couples to always look at plan B, the rain plan, in the case that it is thunder storming. Research what these photos look like, as well!

Identify what the venue includes 

Some venues include everything from a multi-course meal to upgraded linens. Some venues are raw spaces that you'll need to coordinate your own vendors for chair, table, and silverware rentals. 
Boston Wedding Venues FAQ
When should I start looking for a wedding venue? 
In Boston, many couples start booking popular wedding dates a year and a half in advance, sometimes two years. Popular dates include any holiday weekend (memorial day, labor day, Columbus Day, July 4th, and New Year's Eve) as well as all Saturdays between May-October. 
Do I pick a wedding date or venue first?
Perhaps you want to get married on a specific wedding date – like your anniversary or a cool number like 10/10 (October 10th!). Perhaps, you are prioritizing when your priest and church are available. I'm extremely flattered when couples e-mail me and ask me for my list of dates, and then shop it to their short list of venues to find which ones overlap. 

At the end of the day, it's your choice. I chose the week of my wedding because one of my closest friends is an elementary school teacher and I wanted her to be there. Then, I chose a Tuesday because it was the only day that my photographer was available! 
What month should I get married in Boston? 
The popular months are the not-too-hot summer June, beautiful autumn of September, and gorgeous foliage of October.  Boston's weather is unpredictable, so a March wedding could be in the 60s. There could also be snow still on the ground in April. Some venues may have off-season rates as well as discounted rates for weekday and Sunday weddings. Thursday weddings are becoming more popular! 
Map of Boston Wedding Venues
Best Wedding Venues in Boston
State Room: A Longwood Venue
Boston Public Library
Museum of Science
Fenway Park
Hampshire House
Artists for Humanity EpiCenter
Fairmont Copley Boston
Liberty Hotel
InterContinental Hotel
Mandarin Oriental Hotel
Four Seasons Hotel
Lenox Hotel
Boston Harbor Hotel
Boston Marriott Long Wharf Hotel
Ritz Carlton Hotel
9 OFS
Oceanview in Nahant
Best wedding venues in Boston
State Room: A Longwood Venue
The State Room shows off views of Boston at its best.
Though the State Room has four rooms (Great Room, Harborside Salons, Cityside Salons and the Loft), The Great Room is by far my favorite. The windows are floor to ceiling (20 feet high and 120 feet across) and offer panoramic views of the city WHILE still being in the city. It's remarkable.
The Great Room can host 650 people for dinner!
I love it when couples have their ceremony in this space. It means that brides can walk down the floating staircase into the ceremony space. It's rare that I'm able to be indoors from a high vantage point, photographing the bride AND all of her guests AND the skyline all at once.
Check out my favorite weddings at State Room!
Boston Public Library
Classic Boston meets historical elegance. Here are some of my favorite spots to photograph in the Boston Public Library:
Bates Hall – This is the library's main reading room. Wall adorned book cases, bright green table lights, and is known to be one of the most architecturally important rooms in the world
Courtyard – There's a tiny balcony that will allow for a beautiful overhead look of the entire courtyard. Find it. It's stunning.
Abby Room – This originally was the book delivery room, where people who want for books that they requested at the Bates Hall desk. Look above at the murals! Edwin Austin Abbey paints the story of the Grail. Sir Galahad's red cloak
Grand staircase – It's like something out of a Disney movie.
Museum of Science Boston
The Museum of Science Boston is the hidden gem of Boston. It has a dedicated parking garage. The Museum of Science Boston has some of my favorite wedding coordinators that I have ever worked with with a wonderful caterer – Yay Wolfgang Puck!
Many of my clients have enjoyed hosting their wedding at one of the many spaces within the Museum of Science Boston:
Indoors in the Blue Wing amongst all of the cool exhibits
Outdoors at in the tented Pavilion overlooking the Charles River
Skyline Room with an birds' eye panoramic view of the Charles River
Also, a dedicated parking garage and museum passes for your guests. Not too shabby!
Check out my favorite weddings at Museum of Science Boston!
Fenway Park
Show your guests a side of Boston that most never get to see… inside Fenway Park! There are multiple locations that are available for wedding ceremonies as well as receptions, depending on your group size. 
You can even hire Wally or Tessie, the Red Sox mascots, come and say hello to your guests! Depending on the season, tours for your guests are also available!
I love that weddings at Fenway Park often include a portrait session inside of the park so that we can access cool exclusive spots, like on the Green Monster!
Check out my favorite weddings at Fenway Park!
Hampshire House
The Hampshire House is of my favorite mansions of all time, and definitely deserves a spot on this Best Boston wedding venues list. Situated right on Beacon St (two blocks away from my condo), it's directly across the street from the Boston Public Gardens and also has easy access to the Charles River and the DCR Hatch shell over the Arthur Fielder footbridge.
The Library is one of the most stunning spaces for intimate wedding ceremonies as well as receptions. This team has perfected their ability to flip the wedding ceremony space into a reception space extremely quickly!
Artists for Humanity EpiCenter
Here are my two favorite things about the Artists for Humanity EpiCenter 
Environmentally friendly, community-centered, and arts-focused – It's no secret that the arts mean a lot to me and for our youth. This incredible organization provides a safe space for so many, who otherwise wouldn't have the resources at home and in school.
A blank canvas – Because it's such a raw space, you're able to customize and design it anyway you want to. Everything from lighting, table linen colors, cutlery, chairs, etc.
Fairmont Copley Boston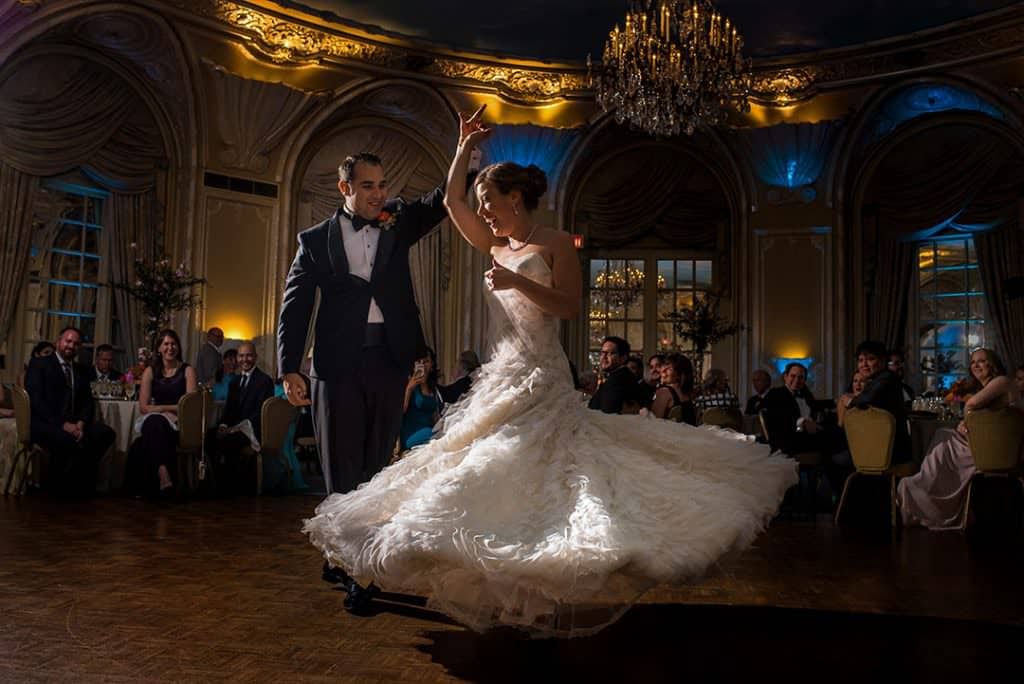 The Fairmont Copley Boston wedding venue can host up to 1000 guests in their Grand Ballroom. Their smaller ballroom is perfect for more intimate settings, without compromising on luxury or traditional Boston feel. 
This is a traditional venue, they even provide you with wedding assistance if needed. The interior is very similar to the Renaissance period, which makes it a very interesting location for your wedding. They also have custom artwork and great interior design. In addition, you are close to both the Newbury Street Shopping area as well as the Boston Public Garden too.
Nicole's pro photography tip for her Fairmont Copley Boston Hotel weddings couples: There's nothing I love more than twilight in Boston!
Liberty Hotel
What makes the Liberty Hotel unique is the fact that it's set in a converted jail in the Beacon Hill Neighborhood. 
It wins the award for my favorite bar names: Clink and Alibi! Clink is known for its amazing North Atlantic local seafood and seasonal New England dishes. Alibi is awesome because it's set in the old "Drunk Tank" of Boston's historic Charles Street Jail. (Fun fact, there's a Boston escape room that I highly recommend: Trapology Boston's Drunk Tank)
There are some unique spaces that the Liberty Hotel has to offer as a Boston Hotel wedding venue:
The Ballroom – Indoor capacity: 180 dinner and dancing. Outdoor capacity: 200 reception, 180 ceremony
The Yard – The Yard is a relaxed outdoor garden area artfully protected by trees and shrubs so that it doesn't even feel like you're in the heart of the city. Many of my couples have their wedding ceremony in this beautiful outdoor space.
Catwalk – A balcony that encircles the rotunda so that you can overlook the hotel's lobby. Awesome views! Many of my couples love having their cocktail hour here.
Meeting room – Plenty of spacious and private spaces for bridal parties to get ready in.
InterContinental Hotel
The Intercontinental Hotel Boston is situated right on Boston's historic waterfront. With two enormous ballrooms, your guest count won't be an issue here. 
The two ballrooms are:
Rose Kennedy Ballroom – 10,653 sq. ft. and holds 1,121 guests. Beautiful views of the Boston Harbor and Fort Point Channel.
Abigail Adams Ballroom – 4,922 sq. ft. and holds 518 guests. This is a versatile space with dividers.

Here are some cool things you can do if you host your wedding at the InterContinental Hotel in Boston:
Utilize the outdoors – Have an outdoor cocktail hour right by the water! Indian weddings will especially love this beautiful backdrop for their baraats!
Arrive in by boat or water taxi – There's a dock right at the hotel. Make a grand entrance!
Nicole's pro photography tip: Do not miss sunset here! Ideally, go outside an hour before sunset. Build in 10 minutes into your wedding day.
Mandarin Oriental Hotel
The Mandarin Oriental Boston Hotel has the gorgeous Oriental ballroom can host up to 600 guests. All of their rooms are named after Asian cities, and my favorite part of this hotel is being able to say, "I'll meet you in Bangkok!"
Check out favorite weddings at the Mandarin Oriental!
Four Seasons Hotel
At the Four Seasons Hotel Boston, the Grand Ballroom can host up to 500 guests. Other favorites are the Governor's Room, and Aujourd'hui Event SpaceThere are plenty of other spaces that are perfect for more intimate and smaller weddings. Event spaces are on the 2nd and 5th floors. 
Lenox Hotel
Situated right in the heart of Back Bay, the Lenox Hotel is a beautiful location for an indoor ceremony and reception for up to 135 guests. This wedding event team has a process for flipping a space from ceremony to reception extremely quickly, and it's so impressive!
Nicole's pro tip: There's a Lindt chocolate store next door. Stock up! Especially on the coffee and hazelnut truffles 🙂
Boston Harbor Hotel
At the Boston Harbor Hotel you have multiple rooms for weddings that range from 150 to 250 guests or more. There's the Atlantic Room, the Wharf Room and many others.
Boston Marriott Long Wharf Hotel
The Boston Marriott Long Wharf Hotel is situated right on the Harbor, easy access to the Boston Harbor Islands, Christopher Columbus Park, and the North End. 
Spaces available for weddings are Harbor View Ballroom, Grand Ballroom, Palm Garden, and the very swanky Midnight Lounge
Ritz Carlton Hotel
The Ritz Carlton Hotel is perfectly situated right on Avery St and overlooks the Boston Common. 
They have multiple ballrooms like the Washington Junior, Avery room, The Ballroom Studio and the Hamilton Room.
Nicole's pro photography tip: If you plan on taking photographs in the Boston Common or Boston Public Gardens, be sure to register for a permit.
Nicole's pro photography tip #2: This isn't a must, but I've found that because I work in Boston so often for the last ten years, that I have developed a pretty good network of photography friends. It's very likely that I know the other photographers that are photographing in the Boston Common or Boston Public Gardens that day. Not guaranteed, but if they're friends of mine, it'll be easier for me to say, "Hey. Hurry up. SHARE THE SPACE." 🙂
9 OFS
Called 9 OFS because it's on 9 Federal Street, this rooftop courtyard is a city gem. The patio space and panoramic view of the city while being able to look down at the streets below is something unique that only this venue has!
Oceanview in Nahant
If you really want to have a full ocean view for your wedding, then Ocean View Nahant is definitely the right pick. Dedicated parking lot, and you have immediate beach front access!!
City Hall wedding venues in Boston
Cambridge City Hall
Arlington City Hall
Quincy City Hall
Wedding venues in Cambridge, MA
Royal Sonesta Hotel in Cambridge
Situated right on the Charles River, the Royal Sonesta Hotel has a beautiful and private-ish view of the city skyline immediately behind the hotel.
Hyatt Regency Hotel Cambridge
The Hyatt Regency in Cambridge is situated perfectly on the Charles River, has a dedicated parking garage, and a stunning view of the Boston skyline. The hotel can host up to 470 guests.
Cambridge MultiCultural Center
The Cambridge MultiCultural Center is a sought after venue in a beautiful part of Cambridge, MA. I love them because they're a non-profit that supports diversity through theater, performing arts, and other visual arts.
Wedding venues North of Boston in the North Shore
Danversport Yacht Club in Gloucester, MA
Nothing is more relaxing than having a waterfront wedding venue at the Danversport Yacht Club in Gloucester, MA. The view itself is stunning, you have all inclusive wedding packages and they can cover up to 650 guests. 
Willowdale Estate
Willowdale Estate in Topsfield is a gorgeous stone estate situated about 30 miles north of Boston. It has two seasons:
Tent Season is from May-October and suited for weddings between 125-140 guests.
Mansion Season is from November-April and suited for weddings between 80-125 guests.
Nicole's Pro Tip #1: Do not miss out on the bathtub in the upstairs suite
Nicole's Pro Tip #2: Weddings at Willowdale Estate get a little cheese platter to snack on, and it's delicious!
Crane Estate
Crane Estate is a mansion perched on top of Castle Hill in Ipswich, MA. It is everything the name describes it to be: A castle on rolling, perfectly manicured hills, overlooking the beach, Atlantic Ocean, and the 2,100-acre property. 
There are three wedding options for this property: The Great House, The Barn, and Steep Hill Beach.
Nicole's Pro Tip: If you're touring this property or anywhere close to Ipswich, you must have fried clams.
Wedding venues in Central MA
DeCordova Sculpture Park and Museum in Lincoln, MA
Art lovers, rejoice. DeCordova Sculpture Park is a 30 acre sculpture park that offers unique photographic opportunities a private quiet place for an outdoor ceremony and tented reception 
Mechanics Hall in Worcester, MA
In addition to being a beautiful wedding venue for large groups, Mechanics Hall is also a stunning concert hall, with wrap around balconies and awesome acoustics. This venue is 14,000 square and can accommodate 1,600 guests.
Have questions about your Boston wedding venue? Send me an email!