Looking for engagement photography locations in Boston?
The best way to get started is by looking at the list of our favorite places here. We've got everything from beautiful greenery and florals to oceanfront views to a city skyline. Here are a handful of the best engagement session locations in Boston!
BOSTON PUBLIC GARDEN AND BOSTON COMMON
The Boston Common is an iconic park – 50 acres in size, the beginning of the Freedom Trail, and the oldest park in the country. The Boston Common and the Boston Public Garden are directly across the street from on another.
If you're looking for an iconic location for your photo shoot, it can't really get better than the Boston Public Gardens. Maybe it's where you had your first date. Maybe you have wonderful memories of walking through the beautiful park, holding hands. Either way, this is the perfect place to capture a little bit of nature in the heart of the city. There is no best time of the year for this location because each season has something different to offer! Whether they're covered in a blanket of snow, or the beautiful trees are full of leaves, this Public Botanical Garden, Boston Public Garden, is beautiful year round.
In the same way that the Public Gardens are iconic, so is the Boston Common for many of the same reasons. They're both also very close to Beacon Hill! I'd say that this is one of the most popular Boston engagement photo locations.
Pro Tip: Photograph at the Boston Public Gardens during the weekday, to avoid all the tourist crowds!
Entrance fee: free
View more Boston Common and Boston Public Gardens engagement and wedding photos!
For weddings, please make sure you get a license!
BEACON HILL & ACORN STREET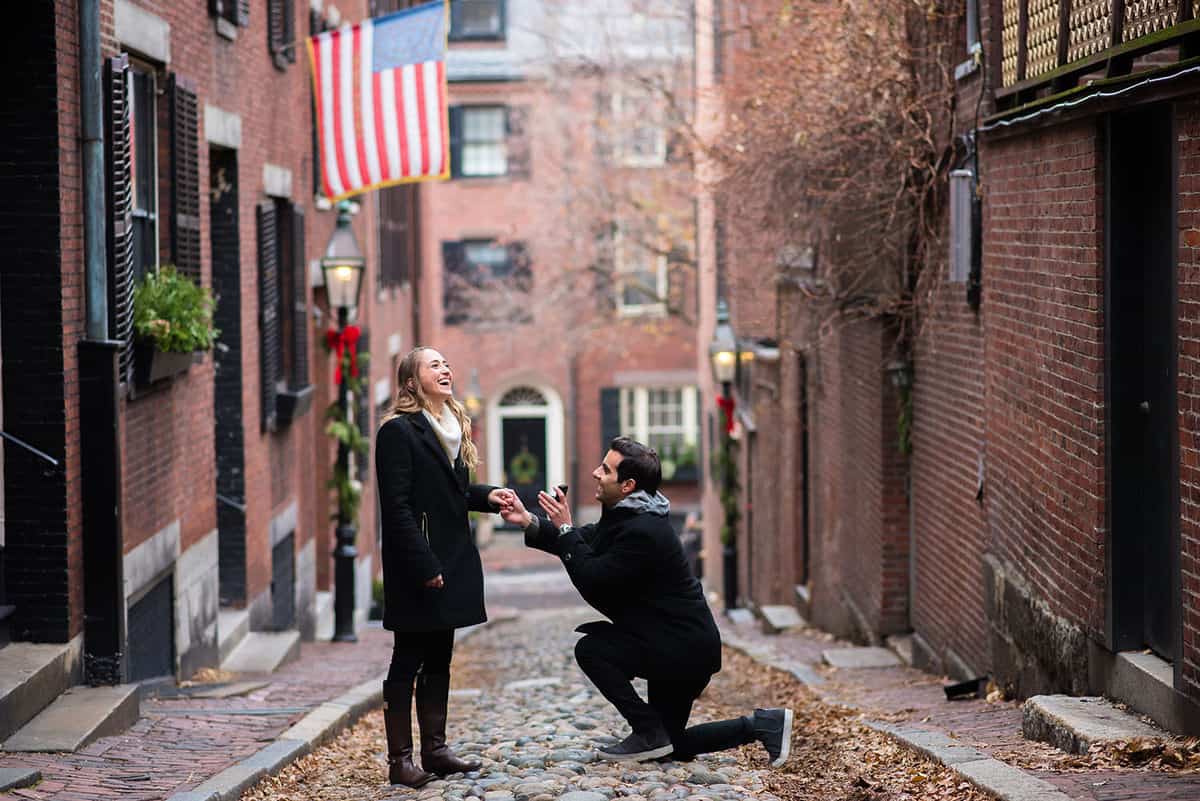 Are you a fan of beautiful architecture, contemporary art, cobblestone city streets and history? This location is perfect for you! Beacon Hill has a timeless classic style. There's a reason why it's one of the most photographed places in the country. In any case, Beacon Hill is a fun place to capture pictures for engagement sessions.
Click here to view more Boston Beacon Hill engagement photos
Entrance fee: free
CHARLES RIVER ESPLANADE & DCR HATCHSHELL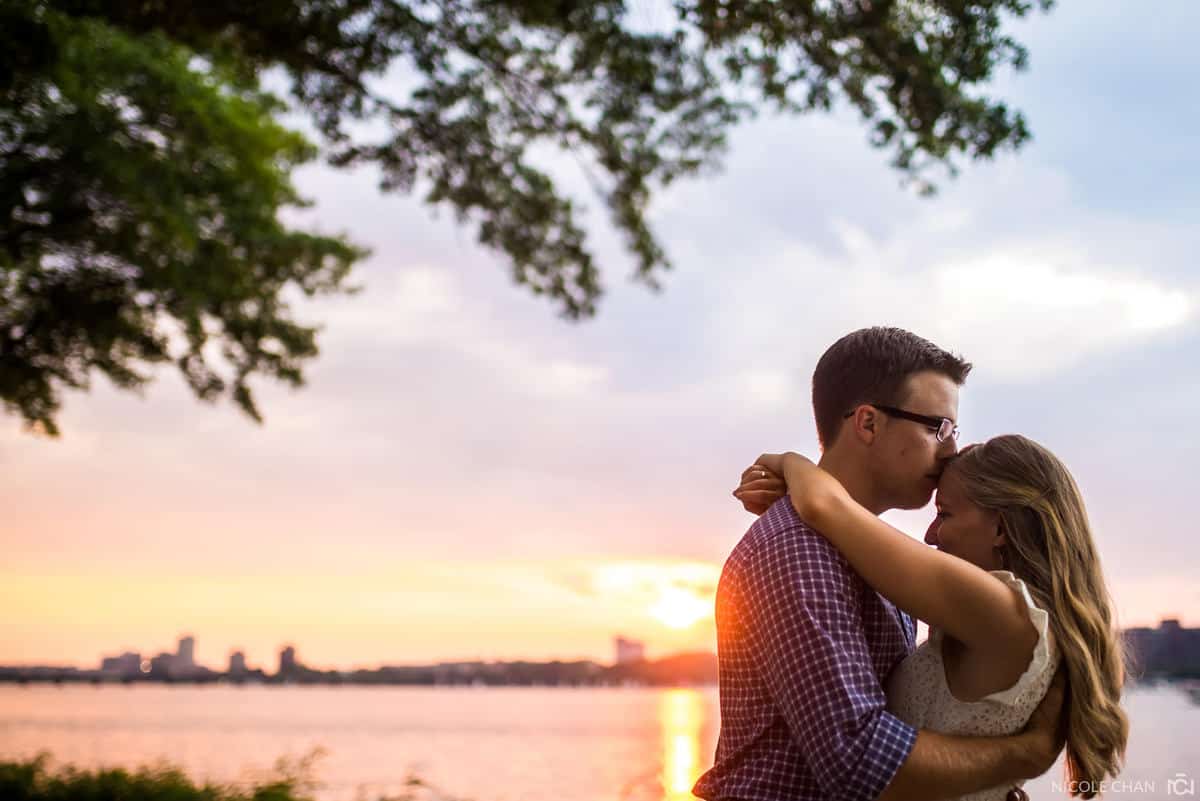 The Charles River Esplanade is an amazing spot for pictures! Not only is the river great, but also the backdrop of the city on both sides of the shore. This location is best chosen for late spring and summer shoots when the grass is green and the trees are luscious. It's the perfect place for a long walk and some quality time with your partner. The Boston Esplanade never disappoints and is one of my favorite Boston engagement photo locations!
Pro tip: Bring insect repellent if you're photographing at dusk in the summer!
Prop tip #2: Park at the Boston Common Garage and walk across the Arthur Fielder footbridge. Bring comfortable shoes to walk in, and then change!
Entrance fee: free
NORTH END
Boston's Little Italy holds not only Boston's best cannolis (Mike's Pastries, Modern Pastries, and Bova's), but also a charming maze of little streets, and historic buildings (Paul Revere House and Old North Church).
Entrance fee: free, but there are often lots of events happening here!
CHRISTOPHER COLUMBUS PARK IN BOSTON
This park is right on the waterfront harbor, on the outskirts of the North End and Faneuil Hall. It's perfect thanks to its central location which allows us to move to a lot of different spots close by. It's an attraction because of the trellis that runs through it.
In the summer, it's covered in luscious vines and flowers – in the winter, it's coated in colorful lights. If you want your engagement shoot to have a special holiday feel, this is the place for you. Any time of the year works for this location because the trellis always has something to offer.
FAN PIER HARBOR WALK & SEAPORT DISTRICT
If you are having your Boston engagement shoot because you're in love with the city, the Seaport district is one of the best places to be. Fan Pier is another one of the most photographed spots in Boston, just because it captures such an iconic view of the city.
Right on the water, you can have downtown Boston and the Boston Harbor Hotel serve as your backdrop. On the edge of Chinatown, the financial district and the North End – Fan Pier in the Seaport district is easy to reach from all sides!
With the Harbor Hotel and the Marriott Custom house clocktower in the back, it's one of my favorite city scenes for a Boston Engagement session.
BOSTON PUBLIC LIBRARY
It's a beautiful garden area and definitely on my list for perfect Boston engagement photo locations. It's the trifecta of history, architecture, and beautiful greenery! It's one of my favorite Boston garden photo locations and a beautiful venue for a wedding.
Heads up! There is a fee if for engagement sessions and portraits at the Boston Public Library. Read more about the Boston Public Library photography fees here.
ARNOLD ARBORETUM OF HARVARD UNIVERSITY
This botanical research institution and free public park, Arnold Arboretum, is a quintessential garden perfect for engagement or wedding day photos. You don't have to walk super deep into the Arnold Arboretum to get some beautiful greenery.
Street parking is available at the Arnold Arboretum.
This stunning location in Jamaica Plain is a very popular spot for a photographer interested in birding, flowers, wedding, engagement, and portraits!
LARZ ANDERSON PARK IN BROOKLINE, MA
Larz Anderson is a beautiful spot of greenery, placed on 64 acres in Brookline, MA! It's also listed on the National Register of Historic Places.
It's the perfect place for a wedding photographer to get some pretty greens!
LE MERIDIAN ROOFTOP GARDEN IN CAMBRIDGE, MA
I was a wedding photographer at this hotel last year and was amazed at how convenient the rooftop is! It's a great place for photos Boston.
BOSTON WATERFRONT SKYLINE NEAR MIT
Parking is an absolute pain here, but aside from Fan Pier near the Harborwalk area, I think it has one of of the prettiest skyline views! It's a short distance from MIT's perfectly manicured lawns and greenery!
HARVARD SQUARE IN CAMBRIDGE, MA
I used to hang here all the time in college. Historic awesome architecture and some gorgeous trees. Keep an eye out for university events (like May graduation month) because this area can get busy.
SOUTH END
Less insane than Charles St., but just as charming. It's a great place for photos Boston and perfect for wedding or engagement photos.
NEWBURY STREET IN BACK BAY, BOSTON
Shopping galore! Back Bay's most popular and famous shopping district. The Newbury Hotel is brand new, and a beautiful wedding venue.
FENWAY PARK
Even if you're not a baseball lover, you must admire how iconic Fenway park is. It's a unique but special place for baseball lovers to have as their engagement session photo background.
It's possible to have a private tour for your Boston engagement session. Contact them for scheduling and fees.
Did you know that there are three spots within the venue for a wedding?
Depending on the events that are happening that day, parking may be difficult.
PIERS PARK IN EAST BOSTON, MA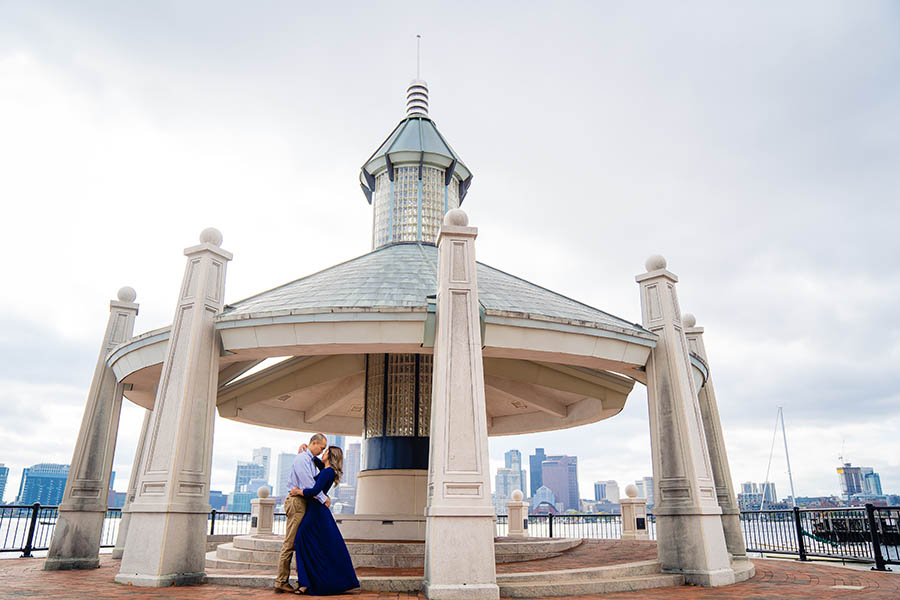 Piers Park is an inner harbor gem! You can take in the spectacular views of downtown Boston while taking a stroll around this beautifully landscaped park.
Pro tip: It can get windy! I personally love the hair flying in the wind look, but ladies, make sure your dress isn't TOO flowy for your engagement photos! 😉
CASTLE ISLAND
This is one of my all time favorite engagement session locations because there's greenery, the stone work of Fort Independence, the beach, free parking lot, AND Scully's lobster rolls.
Free parking lot in lot near Fort Independence for your engagement photos!
Metered street parking along the beach
NORTH POINT PARK IN CAMBRIDGE
This is my favorite view of the Zakim bridge! North Point Park in Cambridge is a public park located along the side of the Charles River in Cambridge, Massachusetts and Boston's West End.
During our planning session, remind me to let you know about my secret parking areas for your engagement photos!
BLUE HILLS AND HOUGHTON'S POND IN MILTON, MA
I take my dog here to go hiking all the time. It's one of my favorite spots for foliage!
WOLLASTON BEACH IN QUINCY, MA
You don't have to go all the way to the North Shore or the Cape for beaches, there's a beautiful stretch of oasis right in Quincy. I love when we can get easy parking for your engagement photos.
Pro Tip: Get fried clams at Tony's afterwards.
MARINA BAY IN QUINCY, MA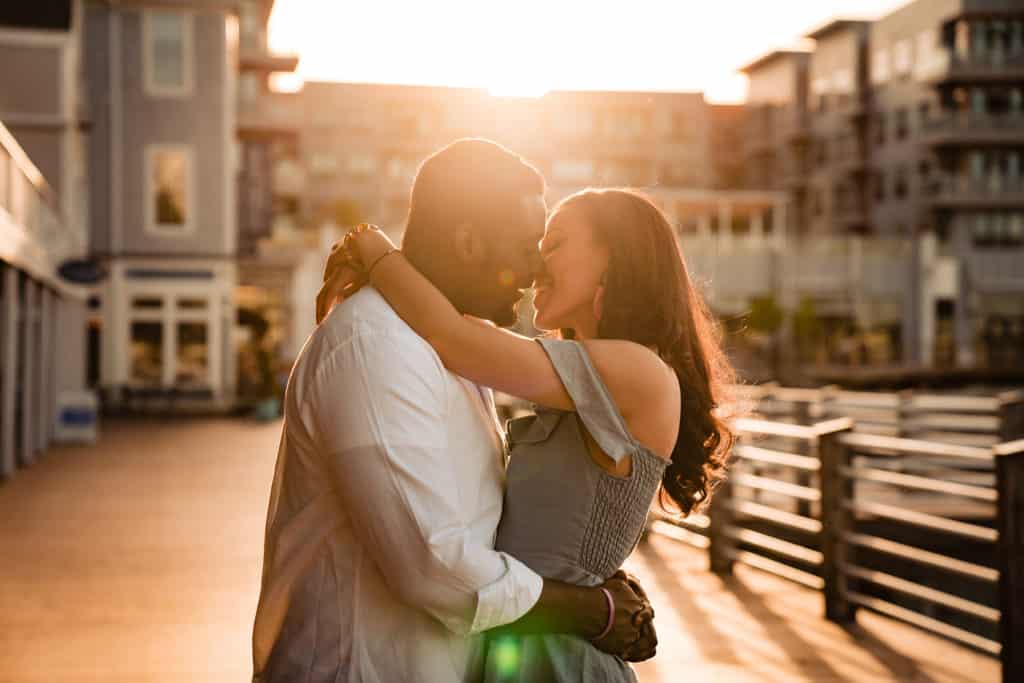 I love it here and would be happy to share it with you. There's also a really good place for ice cream! Though Quincy is technically not in Boston, it definitely makes my list for favorite engagement photography locations in Boston
I grew up in an area of North Quincy and frequented a tiny area with a view of the city skyline, a small private beach, a charming boardwalk, and some beautiful greenery.
It's called Marina Bay. Even with the name, I know of a handful of little nooks and crannies for greenery, brick, and an urban feel that not many other photographers know about.
DECORDOVA SCULPTURE PARK
The deCordova Sculpture Park and Museum is a little farther out in Lincoln, MA, but I wanted to make sure this Boston engagement photo location was mentioned! DeCordova is a park with stunning gardens.
FAQ about Boston Engagement photos
Can I use these Engagement photo Boston spots for my wedding photography?
Absolutely. Wedding photographers tend to swarm certain areas for best Boston wedding locations (li, so be sure to have a backup spot for your bride and groom (or bride-bride / groom-groom) photos.
What if there are events happening or bad light for our Boston engagement photos?
This is where hiring a professional is important. Professional photographers will be able to manipulate light to flatter all people and body types, whether that be using natural light or artificial. They'll know the best wedding spots, as well as some secret ones.
Will you help pose us for our Boston engagement photos?
Absolutely. My engagement photo style is natural, candid, romantic, fun, and classic. I give a lot of guidance so that you're not focused on the photographer or the pictures, but more about each other, enjoying the moment, and having fun.
How can we use our Boston engagement photos?
Show off your love to the world! Similar to your wedding photos, we can help you create wall art, albums, and portrait boxes featuring your engagement photos. Bring your Boston engagement photos to life by creating printed art. We hope that you'll also love your pictures enough to post them on social media! Please be sure to tag your photographers!
Can we have multiple Boston engagement sessions?
Yes. It's common for our couples to have several sessions and portrait shoots for different New England seasons. Some even like a lifestyle shoot with their furbaby!
What should we wear?
My sessions typically have time for an outfit change. Show off a fancy luxurious lifestyle or go casual (or both) so that your photographer can get a variety of photos. Above all, be you!
Email me and let's start planning your engagement session!
Concerned about the weather or need a backup plan? Here's a guide on Indoor locations for Boston Engagement Sessions