Boston City Hall has currently halted marriage ceremonies due to COVID-19, but they are still processing marriage licenses. Many of my couples are getting their marriage licenses, having a friend get a one-day marriage designation and then having a small outdoor elopement! Read my "Best Boston Elopement Guide" to read all about how to get married! 🙂
The iconic concrete steps at City Hall provide a symbolic image of strength and ascendancy, fitting for many a picturesque Boston City Hall wedding
The thought of horse-drawn carriages, tin cans tied to bumpers, and rows upon rows of guests do not portray the perfect wedding for some. Many couples have chosen to have a Boston City Hall wedding for this reason.
If you too are considering tying the knot, here is everything you need to know about your Boston City Hall wedding
How to get married at Boston City Hall
Complete a 'Marriage Intention Form for a Marriage License'

Located at Registry Division, 1 City Hall Square, Room 213, Boston ($50 fee). 

Wait three days

or 72 hours, or 4320 minutes, or 259200 seconds

Return to City Hall to collect your Marriage License

Your Marriage License will be valid for 60 days.

Schedule your ceremony

Call the City Clerk's Office, Room 601 (617-635-4600) or City Registrar, Room 213, at (617-635-4185) to schedule your ceremony

Hire Nicole Chan to be your Boston City Hall wedding photographer

Email her at nicole@nicolechanphotography.com or call her at 617-506-9059

Arrive to Boston City Hall for your wedding ceremony

Show up 15-30 minutes early before your ceremony time ($75 fee).

Wait for Nicole to finish editing your beautiful wedding photos

Cry over them, and hug your partner. Tell them how awesome they are.

E-mail Nicole and tell her how much you love your wedding photos
Live happily ever after
Frequently Asked Questions about getting married at Boston City Hall
How much does it cost to get married at Boston City Hall? 

$50 for 'Marriage Intention Form for a Marriage License'
$75 in cash for payment for the Boston City Hall wedding ceremony 


How many people can attend my Boston City Hall wedding? 

Most marriages at City Hall take place in Room 601 on the 6th floor. The room itself is relatively small and so you are advised to invite no more than 2-4 guests. Your photographer and photographer's assistant are not counted in this number


Where do I fill out the 'Marriage Intention Form for a Marriage License' application?

This 'Marriage Intention Form for a Marriage License' application needs to be filled out at 1 City Hall Square, Room 213 Boston, MA 02201-2006.

Hours: Monday through Friday, 9 a.m. to 4 p.m.
After you fill out the form, they will give you a white card with the date for when you can pick up your license at City Hall.

When you go to Boston City Hall to fill out the 'Marriage Intention Form for a Marriage License', you and your partner will each need to bring the following pieces of information: Valid ID (Passport, Driver's License, State ID, or Military ID), Social Security Number, Legal Names, Address of where you both live now, Date of Birth, Location of your Birth, Names of Parents (including maiden names), If you parents were married when you were born, Previous marriage information (How many times, date of divorce, or annulment papers), $50 application fee in cash, money order, or debit/credit card.


When will my Boston City Hall wedding ceremony be?

Weddings take place from 10 a.m. – 11:15 a.m. and 2 – 3:15 p.m. on Mondays, Tuesdays, Thursdays, and Fridays. 


How early should I arrive?

When arriving at Boston City Hall, you'll have to go through a metal detector and then find your way to the correct floor. I always advise to arrive between 20-30 minutes early, but I am the type of person who hates being late.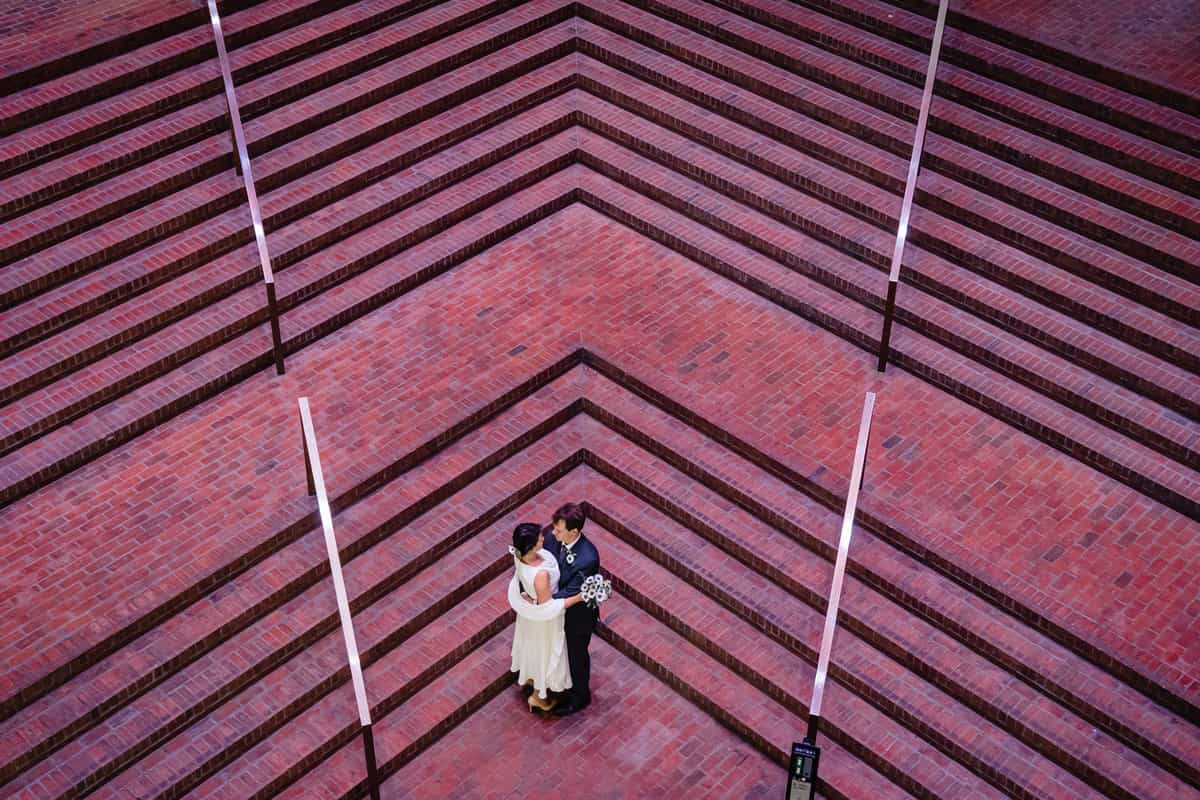 What do I need to bring to my Boston City Hall wedding ceremony? 

Bring your newly obtained license and $75 in CASH for payment for the ceremony (and an extra $25 in case you are late!)


What will my Boston City Hall wedding ceremony be like? 

The City Clerk, Maureen Feeney or assistant, Alex Geourntas, will be leading proceedings and your Boston City Hall Wedding ceremony on the day.

If you wish, you can bring your own personalized vows to read alongside the traditional vows.

Most marriages at City Hall take place in Room 601 on the 6th floor. The room itself is relatively small and so you are advised to invite no more than 2-4 guests.

The waiting room is often a hive of activity, and you will likely not be the only couple to marry that day. Once called, you will walk into an office through a row of desks into the back office of the City Clerk.
Couples have commented that the juxtaposition of wedding participants grouped in with normal 9-5 City Hall workers. This makes this an unconventional, certainly unusual, but ultimately unforgettable experience.


Where can we take wedding photos in Boston afterwards? 
 
Boston Public Gardens
The victorian era garden with its endless willow trees and poetic lagoon make this the ideal first stop for newlyweds.

Copley Square
Awe-inspiring architecture including the Boston Public Library, Fairmont Copley Plaza and the iconic John Hancock tower make this the perfect metropolitan setting.

Beacon Hill
Known as Boston's most picturesque area, Beacon Hill offers cobbled streets, winding brick-row houses, lined with antique lanterns. For charm, this setting cannot be surpassed.

The State House
The Massachusetts State House provides an essence of prosperity, royalty, and grandeur. Its Idyllic garden and marble staircases at the entrance are open to the public for photo opportunities.

Seaport
For Boston's greatest city skyline vantage point the harbor walk has few competitors. The views from the harbor do not resemble your typical waterside paradise, but they are no less stunning to behold.


Where can we have dinner after our Boston City hall wedding? 

Oceanaire Seafood Room – Delicious lobster!

Parker's Restaurant @ Omni Parker House – Beautiful setting in an iconic hotel with a cool story about the birth of the Boston Cream Pie 

Mooo – My favorite steakhouse of all time 

Marliave – Classy spot with incredible food. I love their beef wellington. 



Why should I hire Nicole Chan as my photographer for my Boston City Hall wedding?

1. Nicole knows her stomping grounds and all of the secret spots
I was born and raised in Boston. Though I don't have the accent, I know the lingo. I know the cops, the security guards at Boston City hall, and frequently bump into people I went to Kindergarten-12th grade with. Boston is my home, and I know it very well. There's a comfort in photographing the familiar. 

Is everyone going to the Boston Common to take the same cliche spots? Let me show you my version of Boston for some of the best light, the best spots, and somewhere a little different. Do you know Boston, too? Excellent, let's collaborate. 

2. Nicole genuinely wants to get to know you, and is a great listener
You made a decision to have a get married at Boston City Hall, and not have a 200 person bash at a large hotel. Tell me why. I'd love to know what's important to you. Who are you inviting to your wedding at Boston City Hall? Tell me about those relationships, so that I can create photos that are meaningful, timeless, and filled with emotion for you. 

3. Nicole gives lots of posing guidance and direction
Not everyone is an instagram model. Nicole will give you gentle posing guidance so that you will be able to have photographs that are natural and relaxed. She has a lot of corny jokes – ranging from the most awful dad jokes to the most inappropriate. 🙂 

4. Nicole cares
Enough said.


How much is Boston City Hall wedding photography?

Let's talk about what you're looking for, whether it's a 4 hour City Hall wedding or full day coverage.

High resolution digital photographs are delivered via online gallery. 
My turnaround is within 2 weeks. 
Want to talk more? I'm ready!

Head over here to send me an email or set up a phone call!
Where to stay in Boston – Nicole's favorite Airbnbs!
I've made a list of my absolute favorite airbnbs to stay in Boston – broken down by neighborhood: Back Bay, Beacon Hill, Downtown Crossing, Seaport, North End, and Fenway!
How awesome would it be to get married, have an amazing dinner, and then a lovely staycation in your own charming Beacon Hill brownstone?
Boston City Hall Timeline
Most book the Nicole Chan Photography & Videography team for four hours, but we're available for the simplest two hour coverage to all day coverage!
Just because you're eloping and having a simpler Boston City Hall wedding, does not mean that you don't deserve to have your entire day's worth of celebrations documented!
These moments matter. Your entire wedding day matters, everything from how you feel as you wake up and get ready, to how you cherish each other moments and hours after your Boston City Hall wedding ceremony.
Below are sample timelines for each:
Eight hour Boston City Hall Timeline
10:00 – 11:30 – Brunch at your favorite restaurant – fluffy pancakes with bananas and Nutella, crab cake eggs benedict, fresh squeezed OJ, and one of those beautiful coffees with latte art.

11:30 -12:00 Walk back to your shared apartment together, the same walk that you have done together hundreds of times, in the neighborhood that you have called home for the last two years.

12:00-1:30 Get ready separately, but together! Eat a light lunch or snack at home as you get ready!

1:30-2:30 First Look! You two get to share an intimate moment together in your wedding day outfits. Things are starting to feel real! Let's wander around your apartment and neighborhood, photographing some portraits in a place that is special to you.

2:30-3:00 Uber or walk to Boston City Hall. People will yell out cheers of congratulations and joyfully honk at you from their cars. Little kids will point at how fancy you look!

3:00-3:30 Get to City Hall a little early. Go through the metal detector. Sit and wait! If you are meeting family or friends here, hug and kiss them. Let them shower you in compliments!

3:30-4:00 Ceremony at City Hall! This is it! Let's say your vows to one another.

4:00-5:00 Portraits with the two of you, family, and friends. We can do some inside of Boston City Hall, outside of it, or in your favorite part of Boston – Faneuil Hall, by the waterfront, Boston Common, Boston Public Gardens, or North End!

5:00-6:00 Head to your favorite restaurant together, stopping along the way for a cannoli, ice cream, or food truck stop. Share a kiss as you enter the restaurant. Listen to toasts given by your closest friends.
Let's start planning your Boston City Hall wedding!