Where are the best spots to photograph Boston Common engagement photos?
The Boston Common is an iconic park – 50 acres in size, the beginning of the Freedom Trail, and the oldest park in the country.
Here are some of my favorite spots in the Boston Common for engagement photos and wedding photos:
Greenery – it's everywhere!
Central Burying Ground
Boston Common Frog Pond
Plaque to the Great Elm tree – represents liberty
Brewer Fountain
Directly across the street from the Boston Common is the Boston Public Gardens. Often confused, they're separate parks, both free to the public, and very easily accessible by just crossing one street.
Where are the best spots to for Boston Public Garden engagement photos and wedding photos??
Often, I suggest to my couples to head towards the Boston Public Gardens, the Common's younger brother.
Boston is a beautiful location for weddings— with sprawling gardens and cityscapes, swan boats, parks, and winding rivers. There's no shortage of picture-worthy moments when it comes to the Walking City.

The Boston Public Garden, a national historic landmark in downtown Boston, is highly popular as an outdoor wedding venue. In the spring, it offers colorful scenery and even more colorful locals. It's charming, picturesque, and for those of us who grew up reading "Make Way for Ducklings," intensely nostalgic.
Here are some of my favorite locations for Boston Public Garden engagement sessions and wedding photos:
Boston Public Garden Bridge
Willow trees surrounding the pond
Swan boats
George Washington statue
Make Way for Ducklings statues
How to plan a Boston Common wedding
There are several things to consider before planning the wedding of your dreams in a public park, specifically a Boston Common Wedding.
I've written down the most important tips for you to keep in mind when considering a Boston Public Garden Wedding, as well as some additional resources that should help your arrangements go smoothly.
Reserve your area with Boston Parks and Recreation
Wedding season is (unsurprisingly) busy for the Boston Public Garden, so it's important to reserve your spot well ahead of time!
Weddings can be scheduled between April 1st and December 1st, and can be booked up to one year in advance. Once you reach a week out from the date, you will no longer be able to book your Boston Public Garden Wedding.
If you want to reserve a specific area in the park, apply for a special event permit via Boston Parks and Recreation. Permitting Division; 617-635-4505 or parks@boston.gov.
You'll be able to pick from 6 or 7 different areas of the park— which also means there can be up to 6 or 7 events happening at the same time. If you can't book in a certain area for your Boston Public Garden Wedding, it means that someone has already reserved that area for their own event.

Pay fee for Special Event Permit Application 
Submit a Special Event Permit Application through the same website and make out a check to the City of Boston at least 10 days prior to the wedding. https://www.boston.gov/departments/parks-and-recreation
The fee for Non-Boston residents is $100; for residents in the city of Boston, the cost is $50. Once again, the permitting division (617-635-4505) can provide any assistance you need in securing a permit for your wedding photographer.
Although there's no cost for the permit to reserve your special spot in the Public Garden, there is a fee for professional wedding photography and videography. This applies to whether you're having your wedding ceremony there, or are headed there simply for your wedding family photos, bridal party photos, or couple photos.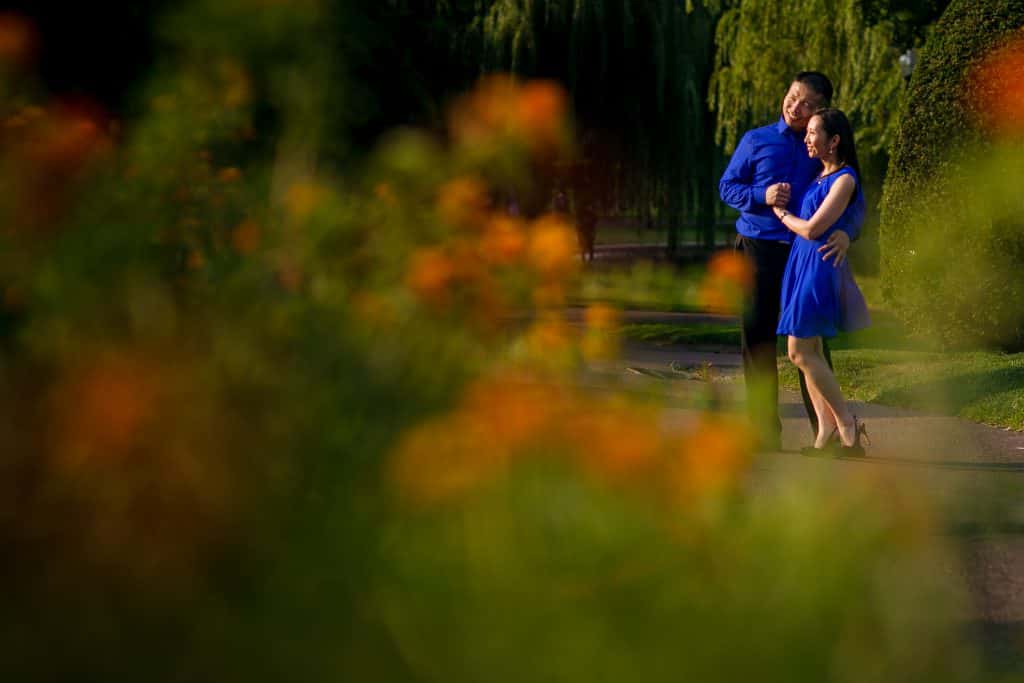 Consider weekdays or off-peak times
"Popular" and "public" go hand-in-hand with "packed." Expect there to be crowds during wedding season, especially if it's a Friday or Saturday!
We highly recommend considering weekdays.
Weddings can take place Monday through Friday between 3:00PM and 5:30PM, or weekends between 11:00AM and 5:30PM.
There could be several other events happening at the same time as your wedding, not to mention tourists, students, and families enjoying their day at the Boston Public Gardens while you have your photo session. This provides its own set of challenges for photographers and couples alike.
Yes, weekdays for Boston Common Engagement Sessions, too!
I recommend Mondays, Tuesdays, and Wednesdays for Boston Common engagement sessions too.
Your Boston Common engagement photos will be much less cluttered with tourists, people, picnic-ers, and students if you decide to do this on a weekday!
Be aware of Boston's unpredictable weather
If you're familiar with Boston, you know how unpredictable the weather can be. Make sure you have a backup plan for rainy weather! (Or umbrellas and galoshes if your guests are the outdoorsy type.)

1 hour duration with 50 person capacity
If you're planning a short, cost-efficient, intimate wedding, a Boston Public Garden Wedding may be a perfect fit for you.
Weddings have 1 hour maximum duration, with a 50 person maximum capacity.

What is not allowed for my Boston Common wedding?
Tents
Tables
Chairs
Decorations
Balloons
Music
Amplified sound
Food
Drink
You won't be able to have tents, tables, chairs, decorations, or balloons. This is a public space, after all, and the Boston Parks Department wants to keep it as pristine as possible. In addition to being a national landmark, it's also the first public botanical garden in America.
Music and amplified sound are not allowed, presumably for the benefit of the other park-goers.
No food or drinks are allowed, but the Public Garden is close to a whole host of restaurants, if you're looking for a bite to eat after the ceremony.
Where can I park for a Boston Common wedding?
Boston Common Garage at 0 Charles St Boston, MA
Metered spots for 2 hours
What MBTA trains can I take for my Boston Common wedding?
Green line – Arlington, Boylston, Park Street
Red Line – Downtown Crossing
Orange Line – Chinatown
Ready to plan your Boston Common wedding? Email me!
Recent photos from Boston Common weddings and Boston Common engagements
Lydia and Victor's Boston Mandarin Oriental Hotel wedding kicked off with our lovely bride going for