When you ask someone to marry you, it's not because their smile caught your eye as you were swiping through an online dating app. Sure, it may continue to be one of their most lovable and attractive features.
When one human asks another to spend the rest of their life with them, they are asking you to be their partner in crime forever. They're saying that they want you to be by their side, during the happiest of highs and the lowest of lows. I believe that love is more than just skin deep, and the act of asking someone else is an amazing moment that deserves to be celebrated.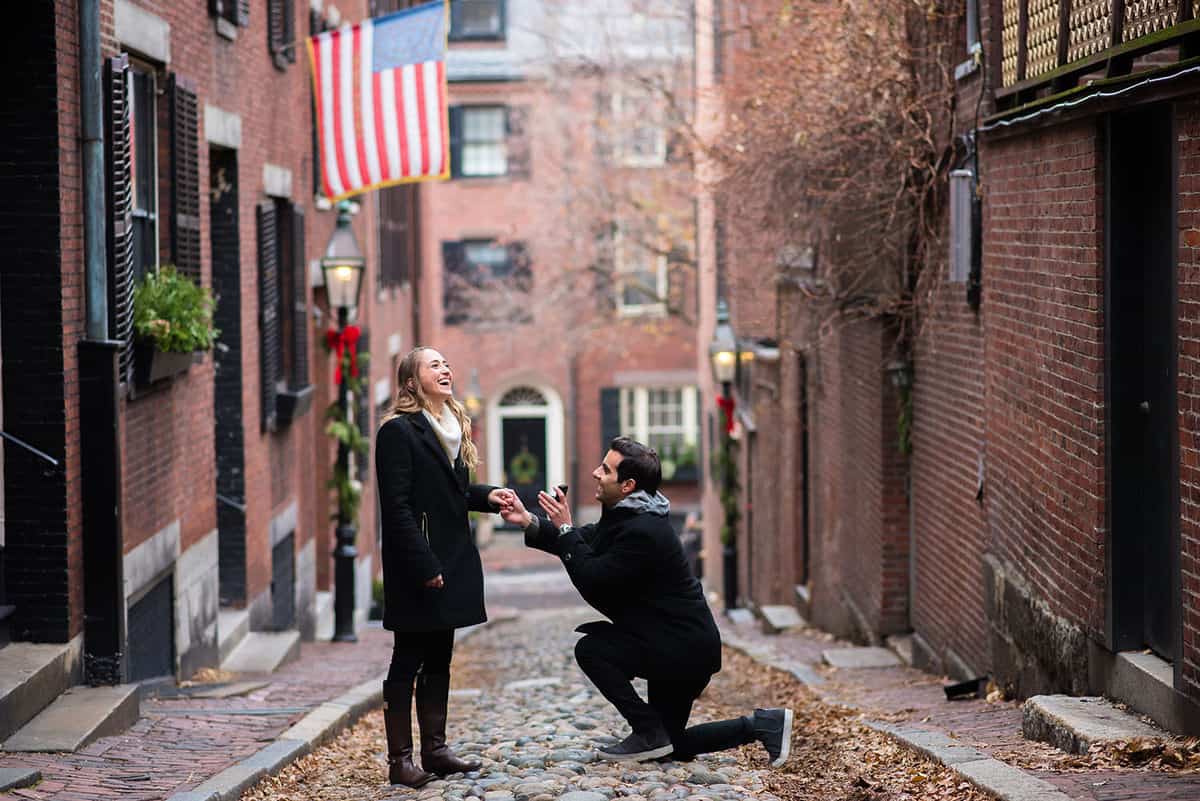 Being a surprise Boston proposal photographer is one of the coolest things I get to do in my career. I've refined the process so that I'm extra sneaky and that it truly is a surprise for them!
FAQ about hiring a professional photographer for your proposal
How many Boston proposals do you photograph?

I photograph about a hundred proposals in Boston each year.

Should I hire a Boston Proposal Photographer?

For most couples, they opt to have a private proposal with just the two of them, so having these secretly created photographs allow for the couple to share it with their family, friends, and future family members. 

Hiring a Boston proposal photographer allows couples to have a tangible record of how they felt – a reminder of expression, the kiss and hug, all of the nerves leading up to it, and the feeling of looking up and asking while down on one knee.

Celebrate a part of this story. Even the simplest proposals deserve to be remembered!

Where are the best places to propose in Boston?
Click here for a list of my favorite Boston engagement session locations

What are some Boston proposal ideas?
Do you want to hire a musician to play the first song you danced to, underneath an arch of imported peonies, while you recite a poem to her lit by romantic candle light on a Boston Beacon Hill rooftop?

Are you a Boston Common proposal kind-of-person and planning on popping down and surprising your person as you two embark on your daily morning walk by the Boston Common Bridge and willow trees? 

Do we want to go skydiving together with a group of friends, then stuff our faces with BBQ ribs and sweet tea?

Whatever your initial proposal ideas are, my surprise proposal photography services include a planning call, so that I can help you think through locations, timing, and tips on how to get the best proposal photographs.

How long until I get to see my proposal photographs?
We know you're excited to see and share your Boston proposal photos. Our turnaround time is 24 hours.

What does your Boston proposal photography packages include? 
Romantic proposal photos don't just magically happen. I I don't just hide in a bush all day and wait for you two to walk by, in perfect light, at the perfect angle, without tourists in the way. 

By hiring me as your Boston proposal photographer, we'll have planning sessions on what you envision and what would make your proposal perfect for you. Everyone is different, and it's important that I understand what is important to you. These tactical sessions are important so that I know where you're walking from, what the target location in, what the light could look like at that time, etc. All of this, while being covert, secretive, and making sure that we leave enough wiggle room for discrepancies, just in case you need another couple minutes to shake off the nerves or gather your thoughts to make sure that you say everything that you want to say. 

After photographing several hundred proposals, I've got a few tips on how to use technology to track where you two are and to make sure your person doesn't get suspicious. We'll talk through suggestions on contingency plans and buffer time. 

After you proposal and you've reached the rank of fiance, we'll photograph a set of portraits of the two of you, so that you can remember the joy and excitement of the day! 

Your finished photographs will be edited and retouched, and then uploaded to an online gallery where you'll be able to share with friends and family.

What are your rates to photograph a Boston surprise proposal?
$950 includes the planning session(s), the surprise photography itself, and then a portrait session after you propose. Included are high resolution digital images that can be downloaded from your online gallery. Our turnaround time is 24 hours.
Ready to plan your surprise proposal? Email me your initial thoughts and let's get started!
Want to see more proposal blog posts? Click here!