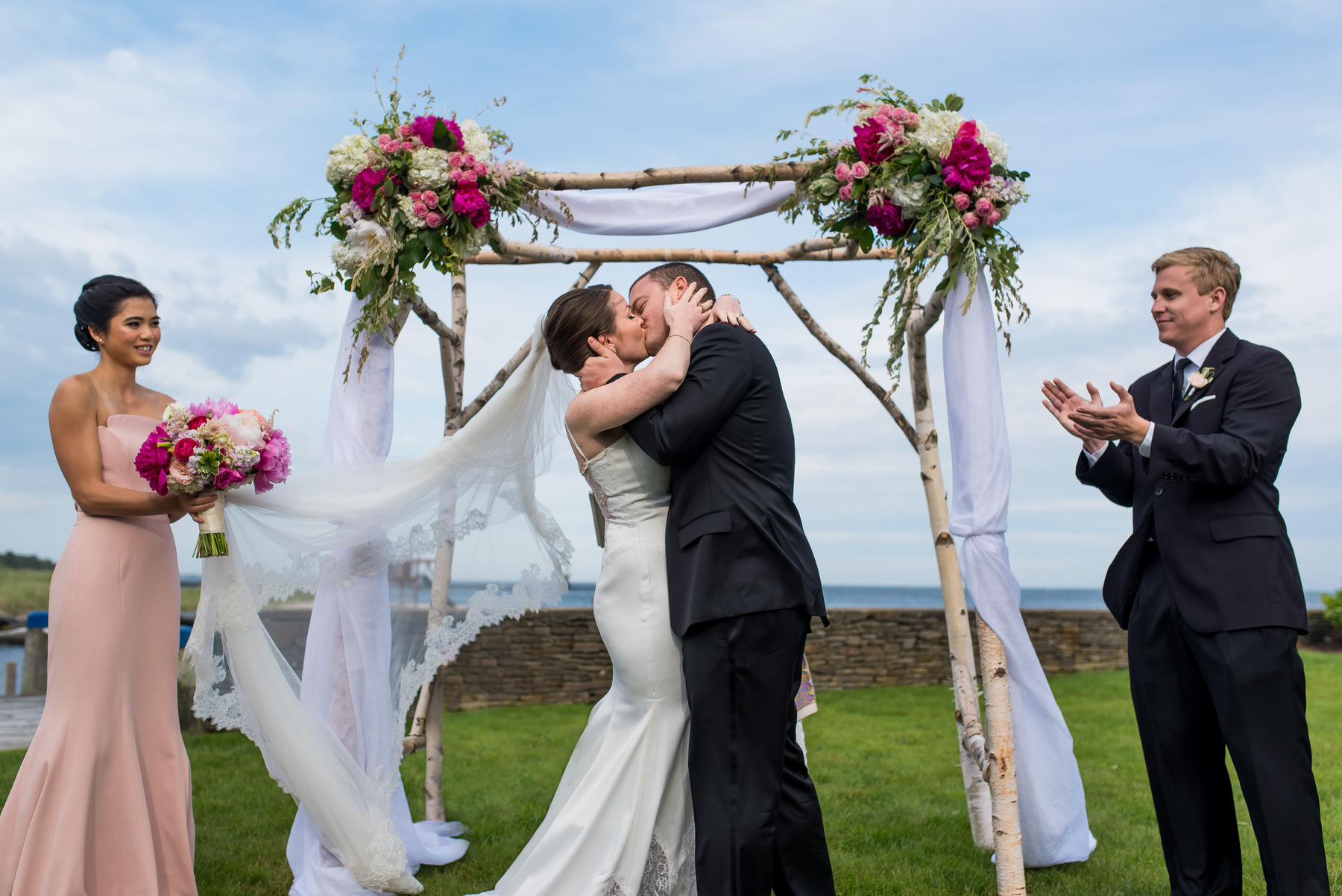 Wychmere Beach Club Wedding
A Wychmere Beach Club wedding ceremony is a popular choice for those who want to get married in elegance due to its picturesque Cape Cod waterfront setting with views of Nantucket sound, high-end facilities beach club, and individualized attention. Interested on having your Wychmere beach club wedding ceremony? Check this out!
Wychmere Beach Club, in 23 Snow Inn Road, of Longwood Events, boasts as one of Cape Cod premier beach venues – with multiple options for both indoor and outdoor weddings. It spreads across 20 acres along Nantucket Sound and includes lots of indoor spaces (my favorites are below) with a private beach, tennis club, boat dock, swimming pools, and exclusive guest rooms. One must be a Wychmere beach club member to enjoy these amenities, but many of my couples have been able to splurge during their Wychmere beach club wedding day weekend!
BRIEF HISTORY ABOUT WYCHMERE BEACH CLUB
In 1913, the hotel became a full-time operation thanks to the Wychmere beach club wedding ceremony of Levi's grandson Biddie and his wife. The couple's three boys would grow up to be the proprietors of the Clam Bar, known as the "Thompson Brothers." All of the lads were over six feet tall, and they grew up at the Inn in a special house constructed for them on the Cape Cod water's edge. The locals referred to it variously as the Hangover Inn or the Spit 'n Whittle.
The family started a new enterprise after the war. The docking of line net trawlers marked the beginning of catch unloading. Ice was used to transport the fish to Boston and New York, where it was sold with clams and lobsters. The innkeepers had diversified into the seafood wholesale market.
People watching the nonstop action on the Cape Cod waterfront eventually started inquiring about purchasing seafood directly from the dock. Using the tops of fishing boxes or barrel heads, a new company was formed serving freshly opened clams. The demand for cooked and opened lobsters emerged alongside the expansion of retail lobster sales. Once again adapting to customer demand, the family renovated the historic snow inn and once-popular Spit 'n Whittle and opened the much-loved Clam Bar in Cape Cod, Massachusetts, later turned into a beach club and named it as Wychmere beach club.
Wychmere beach club has a storied history on Cape Cod, Massachusetts. From 1892 to 1993, it housed the historic Snow Inn and from the 2010-present day, it's been home to Harbor House which was previously called Thompson Clam Bar for decades. In 2010 new owners renovated the entire Cape Cod property and made a membership beach club named Wychemere Beach club while keeping its elegance and class intact throughout all of these years. It became popular as a wedding venue as couples find this Wychmere beach club venue space perfect for romantic setting as a wedding venue. Truly the Wychmere beach club wedding venue is one of the best wedding venues in a private beach in Cape Cod to get married throughout not only in Cape Cod, Massachusetts, but in the whole New England.
WHAT ARE THE WYCHMERE BEACH CLUB WEDDING CEREMONY LOCATIONS?
Wychmere Beach Club is an iconic seaside Americana club wedding venue. This Wychmere beach club wedding venue mixes modern beach decor with classic nautical style to create the perfect backdrop for your wedding ceremony. The natural beauty and picturesque setting of Nantucket sound are unparalleled, allowing it to bring any vision of your wedding venue truly alive.
Read through the Wychmere beach club wedding venue and choose the venue that's perfect for your Wychmere beach club wedding! Wychmere beach club offers 5 different wedding venues for your wedding ceremony and wedding reception namely: Harbor room, Hydrangea room, Ocean room plus rooftop, Private beach and the newly added wedding venue, the Dune!
It's like a postcard. Sailboats. Seagulls. Docks. Cape Cod views. Perfect for a wedding ceremony.
The Harbor Room is a perfect Cape Cod wedding venue in Wychmere beach club because of its access to picturesque Cape Cod and also its history! The Harbor room is built on an original dock and features lots of "Cape elements" – sailcloth drapes, driftwood floors (AWESOME COLOR), and that crisp ocean smell. The Harbor Room holds 500 guests for a reception and 320 guests for dinner.
Aside from that, this Wychmere beach club event space (Harbor room) combines classic Americana with modern elements. Floor-to-ceiling windows are offering dramatic views of Nantucket sound with elegant french doors on as the entrance of Wychmere beach club wedding venue.
Plus: The Harbor room has its private VIP Lounge and you can also combine it with the Hydrangea Room if your Wychmere beach club wedding falls on a weekend and you are expecting a lot of Wychmere beach club wedding guests! These are just some of the many coastal touches that make the Harbor Room at Wychmere Beach Club the ideal location for your Wychmere Beach Club wedding or other seaside celebration.
WHAT IS HARBOR ROOM'S CAPACITY?
Dinner and Dancing: 320
Seated Event: 400
Cocktail Hour: 450
Theatre Style: 600
The Hydrangea room is wonderful Wychmere beach club wedding venue is a classic Nantucket Sound waterfront room right on the Cape Cod with a beautiful lawn full of… yes, you guessed it, hydrangeas!
Inside the Hydrangea room, the hydrangeas, which bloom in vibrant blue and green hues during the summer months on Cape Cod and Nantucket Sound seaside landscape and lawn, are celebrated with an exquisite flower-inspired ballroom perfect for your Wychmere beach club wedding reception after your Wychmere beach club wedding ceremony.
The wedding venue in Wychmere Beach Club, Hydrangea Room pays homage to this flora through a fusion of classic and modern elements including retractable folding glass wall that can be opened up to seamlessly integrate indoors with outdoors. This Wychmere beach club wedding venue space is also a rainproof permanent terrace that's perfect for rehearsal dinner, after party, and wedding reception while enjoying the ocean breeze. You can request the Wychmere beach club wedding staffs to extended it with the Harbor room for more space for your wedding reception area!
An awesome thing to note about this Hydrangea room Wychmere beach club wedding venue space is that you could potentially arrive at your wedding reception by BOAT through the Nantucket Sound! Imagine enjoying views of Cape Cod and on the way to your wedding reception? I don't think anything can top that experience! You'll only find it here at Wychmere beach club.
WHAT IS HYDRANGEA ROOM'S CAPACITY?
Dinner and Dancing: 120
Seated Event: 220
Theatre Style: 250
Cocktail Party: 320
WHAT ARE THE WYCHMERE BEACH CLUB WEDDING RECEPTION LOCATIONS?
Ocean views in the Ocean Room for days at Wychmere beach club. Described as "nautical chic", this expansive Wychmere beach club wedding rooftop event venue and ocean room boasts a magnificent wraparound balcony, dramatic vaulted ceilings, and contemporary Italian chandeliers against the backdrop of the shimmering Atlantic Ocean as far as the eye can seem. Any photographer would love to capture.
The Rooftop event venue space is located on the third floor of Ocean Room of your Wychmere beach club wedding venue, offering indoor/outdoor space for your wedding ceremony, rehearsal dinner, bridal showers or corporate events.
The Ocean room and rooftop space is a beautiful, intimate event space that is perfect for the bride and groom looking to have a relaxed, fun wedding ceremony experience throughout their Wychmere Beach club wedding. With the Wychmere beach just steps away, you'll be able to hear the waves as you say your vows during your wedding ceremony. Plus, there's nothing more romantic than watching the sun set over the sea while your Wychmere beach club wedding ceremony guests celebrate with you.
The best part about Ocean Room wedding venue? It's all included with one of their packages. You won't have to worry about a thing—the Wychmere beach club got everything covered from vendors, food and drinks to photography and a DJ or band. You'll even get an open bar for your rehearsal dinner or after your wedding ceremony and wedding reception so you can celebrate all night long!
Picture a coastal celebration perfect for you-you'll find the ideal color palette here, designed by nature itself. The Rooftop event venue space is usually used for after party and rehearsal dinner.
WHAT IS OCEAN ROOM + ROOFTOP SPACE CAPACITY?
Dinner and Dancing: 170
Seated event: 200
Theater Style: 400
Cocktails: 300
Sometimes what I've always disliked about beach weddings were onlookers. I spend lots of time making sure to frame my images correctly so that a giant man in a speedo isn't photoing bombing my couples' wedding.
Wychmere beach club has taken care of this fear for me by offering a secluded, private beach – perfect for clambakes, bonfires, and white soft sand for beach wedding ceremonies.
Wychmere Beach offers an unforgettable setting for a private beach wedding and allows guests to enjoy the beautiful nature of Cape Cod. The sound views overlook Nantucket Sound with fresh sea breezes, creating perfect conditions for any special events!
PRIVATE BEACH'S CAPACITY
This private beach can host your wedding day with 320+ guests!
DUNE (WYCHMERE BEACH CLUB'S NEWEST VENUE)
Come out to the beach club for their newest event venue! The dramatic location by the sea will a memorable Wychmere beach club wedding like in the other offered event spaces.
At this stunning venue, all the décor is in a neutral soft sand color palette with modern detailing and refined finishes. White oak floors are surrounded by shiplap walls that accentuate them artfully. This wychmere beach club wedding venue provides an unrivaled backdrop for picturesque views of the sea at your disposal.
WHAT IS THE DUNE'S CAPACITY?
Like the private beach, this elegant space can is also for 320+ guests!
WHERE ARE THE BEST PLACES TO TAKE WYCHMERE BEACH CLUB WEDDING PHOTOS?
Wychmere beach club beachfront

Use the beach and the ocean as a backdrop for some stunningly romantic pictures. These photographs can take on a magical quality whether taken at sunset or sunrise.

Harbor Room

The Harbor room is perfect for taking photographs for your Wychmere beach club wedding ceremony.

Hydrangea room

Hydrangea Room pays homage to this flora through a fusion of classic and modern elements including retractable folding glass wall that can be opened up to seamlessly integrate indoors with outdoors which is perfect as backdrops.

Ocean room and rooftop space

The ocean room at Wychmere Beach Club, a popular destination for weddings, features a stunning wraparound balcony, towering vaulted ceilings, and contemporary Italian chandeliers, all set against the glittering waters of the Atlantic Ocean. An fantastic background for photographs.
WHAT DOES A WYCHMERE BEACH CLUB WEDDING COST?
The rental fee varies according to the date of your wedding and the type of venue booked. Venue rental fee will rage from $2,000 to $15,000 per event.
WHO IS THE CATERER FOR MY WYCHMERE BEACH CLUB WEDDING?
Their wedding packages include venue rental, catering, and alcohol. Events planning service including food tastings, table numbers, guest book tables, wedding favors and more! For more information and details, you can visit their website at https://wychmerebeachclub.com
PARKING AND ANOTHER AMENITIES
At the Wychmere Beach Club, your special day will be flawless. They provide everything you may need for a wedding ceremony or reception: tables and chairs to tents and decor; even a dance floor, furniture, lighting, tent accessories are available! The venue also opens its doors for bridal showers and engagement parties as well as elopements and rehearsal dinner. It also offers an expansive parking area.
You might think that a beautiful wedding venue is all about the ambiance, but there are other perks as well. At Wychmere Beach Club you can avail of amenities like an in-house bar and catering service along with tasty cuisine for your wedding guests!
There's also a wedding planner included so if it's a big affair or just small family get-togethers; They've got you covered through your whole wedding planning journey. Other features include handicap accessibility making sure every guest gets to enjoy their stay at this amazing place after you have said "I do."
For fast social media uploads during your wedding day, the whole place is wi-fi accessible so you can post all those Instagram stories you and your guests would want!
WHAT HOTELS ARE CLOSE FOR MY WYCHMERE BEACH CLUB WEDDING?
Each suite at wychmere beach club features a private balcony with stunning views of the sea, while rooms feature plush king beds and all have access to modern amenities. The suites also come furnished with soaking tubs – perfect for relaxing after a day in the sun! Guests will find that they're steps from their room to miles of white sand beaches as well as on-site dining options.
Deluxe Guest Room
Ocean View Guest Room
Ocean View Suite
Cottage
For room inquiries and reservations: (508) 432-1000/EMAIL
TESTIMONIALS FROM THE COUPLES WHO HAD WYCHMERE BEACH CLUB AS THEIR WEDDING VENUE
"Wychmere beach club saved my wedding. As any bride understands, planning and executing wedding ceremonies can be particularly stressful, and this year the stress of planning and orchestrating a wedding in the midst of a pandemic has been unique and challenging. Wychmere beach club went above and beyond to make sure I had the day I wanted (albeit, modified) and it was more than I ever could have imagined. Brooke, one of the coordinators, was warm, kind, savvy and truly made our experience one to remember. The entire staff at Wychmere beach club made our wedding ceremonies, and our guests, feel safe, comfortable and luxurious. The food is amazing and they truly take care of everything. What could have been a difficult day (as we moved our wedding up 6 weeks to a new date with a significantly reduced guest count) was instead one of the best days and weekends of our lives. The warmest thank you to Wychmere for working with us, taking great care of us and making our wedding such a special day. I highly recommend working with the Wychmere, not only for their quality staff and wedding planner, but for the beautiful venue, setting and feel of the space."
–Kristen A.
"Wychmere beach club is hands down a dream venue and crew to work with. When we first toured Wychmere beach club as a potential venue, we were greeted with champagne and treated like royalty the moment we walked through the door. Being the indecisive couple we tend to be, we had seen numerous venues, and this by far was the best. We knew almost immediately this was our venue for our wedding ceremonies! The level of spoiling never ended, Wychmere makes you feel incredibly valued and listened to. Working with Brooke is a true privilege, she is so organized, sweet, and thorough in every single last detail. You dream it and Brooke makes it happen! The minute we met Brooke at the tasting, we knew how lucky we were. Brooke made sure every menu selection, decor, timeline, and detail was exactly what we wanted. Brooke helped us unload our decor, helped ease all of our anxiety, and truly made our dream Wedding a reality! The staff were flawless, attentive, and made sure everyones needs were taken care of. Our VIP attendant Janet was truly one of the sweetest people I have ever met and made sure our VIPs felt extra special. She even created a moment for my husband and I to enjoy champagne and had one of every appetizer set aside for us, so that we could take a breathe before going back out to greet guests. The flow of the day was seamless and perfect in every single way, and we still to this day are receiving compliments on Wychmere Beach Club as a venue and the staff. Also, the food was amazing every app and every main course was delicious! Our Wedding Day was one of the best days of our lives yet, and it would not have been the same without Wychmere Beach Club and their staff! Thank you so much for everything, we cannot speak more highly of them!"
–Paige T.
OTHER EVENTS
Aside from weddings, the Wychmere Beach Club also accepts other celebrations like birthday parties, charity events, corporate events, holiday events, and even retreats! Truly this place will have everything for any get-togethers you have in mind!
The Wychmere Beach Club offers the perfect and amazing wedding experience for anyone looking to get married in Cape Cod. With an experienced staff of professionals, stunning views, and top-tier amenities you can't go wrong. Want more information or would like to book your wedding at the Wychmere Beach Club? Visit their website to learn more!
Location: 23 Snow Inn Road, Harwich Port, Massachusetts
Phone Number: (978) 774-862
PLAN YOUR BEACH CLUB WYCHMERE WEDDING HERE
Are you interested in learning more about photography & videography for your Wychmere Beach Club wedding? (Paragraph) Email us here!
Here are some recent weddings that my team and I have photographed at Wychmere Beach Club: