Tucked away in the middle of Central Vietnam's jungle is a nondescript entrance to the world's largest cave, a cave so massive that it could fit multiple full sized airplanes and 40 story skyscrapers. Inside the cave is a mystical world unlike any other – complete with its own ecosystem, climate, and even clouds.
Month of our expedition: March
Age: late 20s
Physical preparations: Rock climbing, practice hikes in New Hampshire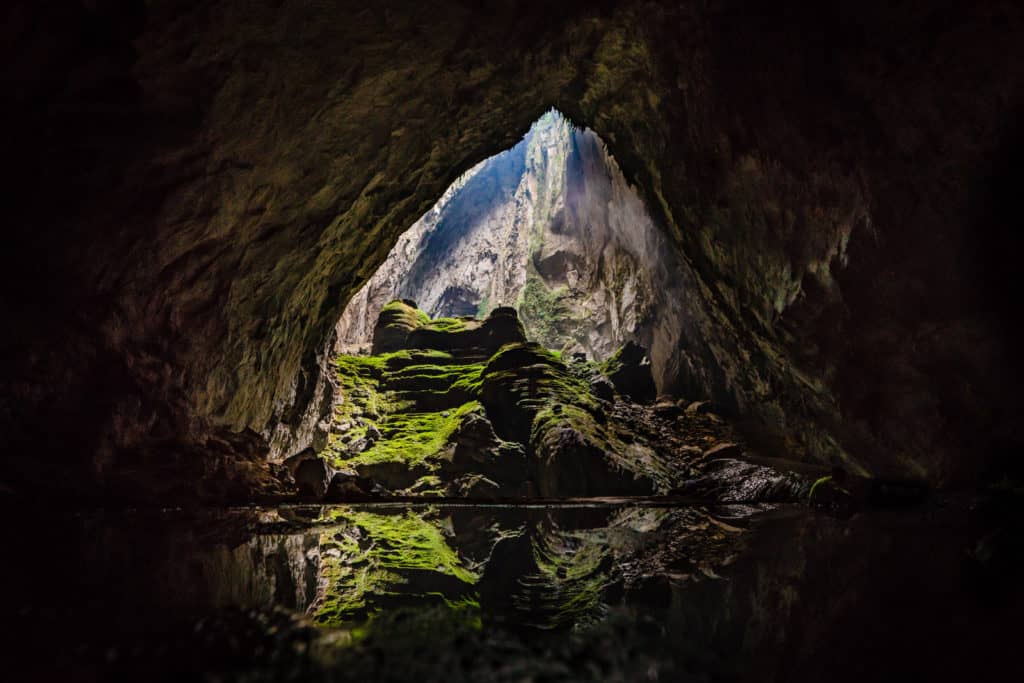 This is from the first doline in Hang Son Doong. See the tiny white light in the upper middle of the frame? That's the headlamp from one of our porters!
Packing Tips
I fit all of the below in my backpack: 
Backpack:
Sirrus 24L Day Hiking Pack for Women // For Men. I loved this bag because it was so lightweight for 8+ hours of trekking and most importantly, it had a ventilated tensioned mesh backpanel, which was great because even though I was sweating like crazy, my back never felt disgusting. The hip belt was also great for weight distribution so my shoulders never got tired. The women's version was ideal because of the thinner straps.
Camera & Lenses:
Sony A7Riii – Incredible for the weight and power. Loved the dynamic range.
Sony 16-35mm f/2.8 – You'll want to shoot wide to capture the grandeur of the scenery. 2.8 was ideal to let in as much light as possible when going handheld.
Sony 85mm f/1.4 – I'm a portrait photographer, so I loved having this with me.
Camera accessories: 
MeFoto tripod – Lightweight, easy
No remote trigger – I used the 2 second timer
Other technology:
Anker Portable battery pack – Smallest one possible. You won't have any service in the middle of the Central Vietnam Jungle, so if you put your phone on airplane mode, it'll likely last for 2-3 days without a charge.
iPhone 6s+
No kindle, laptop, or iPad. You won't need it.
Bags:
Drybags from Sea 2 Summit: Different colors are great for identify back contents quickly.
I kept my 1.5L water bottle and wipes in my daypack. That's it. No snacks. No first aid.
On the first day of our trek, we passed by a village
The rest of my gear was under 6kg. They're very strict about this, so don't pack unnecessary stuff.
Clothing 
Smartwool Socks – 5 pairs in total. Lightweight, calf length, SmartWool socks. Even though the socks and shoes got wet within 10 minutes of starting the trek every day, it was nice to start off the day with a fresh pair of socks. I still dried them each night so that it would be lighter for the porters.
Pants – 3 pairs in total. Lululemon Wunder Under Yoga Pants High-Rise /  Nonwe Women's Quick Dry Water-Resistant Climbing / Danskin Women's Sleek Fit Yoga Pant / I liked pants that tapered off at the ankles, because the guides suggested we wear our socks over our pants so that leeches wouldn't crawl up our legs. I wore the Danskin yoga pants to sleep in for all nights, and then wore them to trek on the last day.
Shirts – 4 lightweight, quick dry shirts in total. I wore one of these shirts as a sleeping shirt. On the last trek day, I wore that shirt to trek. I greatly appreciated my shirts with built-in bras.
Light fleece – I didn't need this.
Long sleeve Shirt – Under Armour Women's Tech 1/2 Zip – Was great for campsite in the morning because it was chilly, but not chilly enough for a fleece.
Underwear – ExOfficio Women's Give-N-Go Bikini Briefs – 5 pairs in total. Was really nice to change into a clean and dry pair of undies each evening. Also, my time-of-the-month hit during the beginning of the trek. If I can do it, so can you. E-mail me if you want to talk more.
Sports bras – 2 in total, because 2 of my shirts had built in bras. If I could do it over again, I'd have all of my shirts to have built-in bras.
Swimwear – I wouldn't pack this in the future. I could've just done with a sports bra and underwear. Same thing, anyway.
Climbing/Adventure/Camping gear:
Footwear 
Hiking boots – 5:10 Canyoneering boots. 100% recommended. There was a variety of other boots on the trip and while we all made it, the 5:10s performed extremely well.
Flipflops – Lightweight, crappy flipflops. $1 Old Navy ones are ideal.
Periods and other female fun
I had my period on this trip. It started on day 2 of the trek.
I packed my usual amount of feminine products (liners, tampons, and overnight pads).
Ladies, if you'd like to discuss this, please feel free to e-mail me. nicole@nicolechanphotography.com
Plenty of scrambling
On the first night, we camped in Hang En Cave, the third largest cave in the world.
What I did NOT need to pack
Dry shampoo/Shampoo/Conditioner – I didn't bathe at all, and you probably won't either because there's only one spot on night #1 that has bathing water. I just tied my hair back in a French braid and left it for a few days. Don't bother with this.
Soap – I brought a small bottle, but again I didn't bathe at all. I did take wet nap baths daily, and it was awesome. Don't bother with soap.
Deodorant – I am less prone to body odor. I've been told it's because Eastern Asians have fewer apocrine sweat glands. The daily Surviveware Biodegradable Wet Wipes wipe-downs kept me clean. However, there was one person on our trip that was a little stinky, and I wish this person took up my offer of these wet wipes. I'd find an eco-friendly small bottle if you're prone to be stinky.
First Aid Kit – The safety assistants have everything and a kit will always be within earshot of you. Don't bother bringing your own bandages and whatnot. If you have specific medicine, go for it.
Talcum Powder – I brought a small ziploc, but again… it wasn't needed. When we got back to the campsite, my wet socks and shoes would come off. I'd use my Surviveware Biodegradable Wet Wipes to wipe down my body and my feet, and then I'd wear flip flops so that my feet would dry.
Water bottle – I had brought a few 1L Platypus Ultralight water bottles, but at the start of the trip, they give you a 1.5L water bottle and it's much easier to refill that. Do NOT bring a camelback. The mouthpiece will likely get wet during one of the river crossings, and there's a high chance of you getting sick from the Central Vietnam Jungle rivers.
Food & Snacks – The tour provided an abundance of amazing food and snacks. I was shocked at how delicious everything was. I'm a HUGE snacker, and feel like I'm constantly eating. There was plenty of fruit, salty snacks, sweet snacks, crackers, etc. My KIND bars and CLIF bars went completely untouched.
Shorts – I brought a pair, but it was too cold at night.
Hiking sticks – Utterly useless. You'll need your hands to scramble. This is my biggest regret. I left them at the farm stay and didn't even bring them on the trek. I found a stick and had fun carrying that, but even that wasn't needed.
Tent – Oxalis provided the most glorious tent I've ever slept in.
Sleeping bag & Pillow – Extremely comfortable and clean. They'll label your name on it, so that you get the same mat, pillow, and tent each time.
Sleeping mat – I've never slept with such luxury in tents before. It was so comfortable.
Bug spray – It'll probably be useful when you're at the farmstay, but I had packed it in my 6kg pack, and never used it at all.
Caving helmet
Caving headlight
Harness
Gloves – Oxalis will provide for you. They get absolutely filthy, so even if I owned my own pair, I wouldn't bring them.
Here's our new Australian/South African friend, Jonavan, pulling us in the inflated raft
Our master chef is making us spring rolls
We started our morning with a bowl of pho and fruits. My favorites were the dragonfruit!
Throughout the five days, there were over 30 river crossings. Our socks and shoes were constantly soaked.
This is the tiny entrance to Hang Son Dong Cave
Fossils
Naturally formed cave pearls. Some of them were the size of baseballs!
Special thanks to Sea To Summit , LensProToGo, and Petzl for sponsoring incredible gear for this cave expedition!