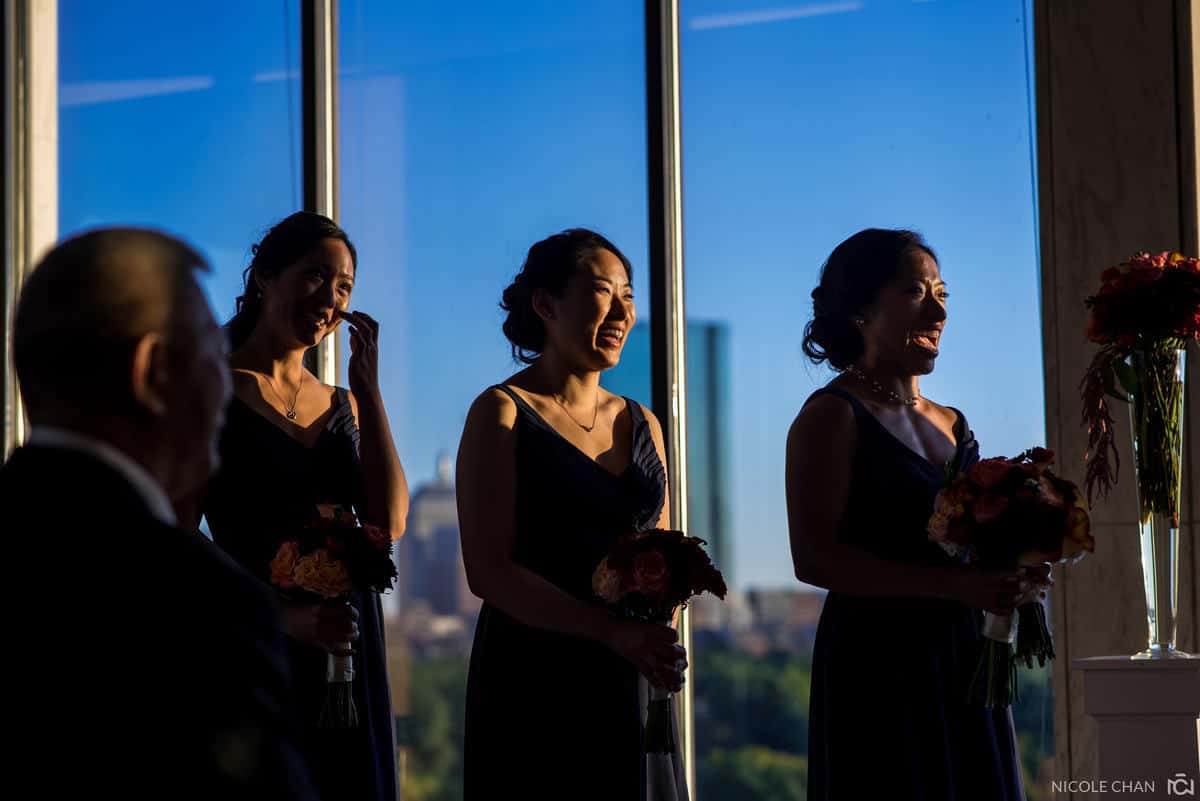 During their second year of undergrad at MIT, Cathy and Suzanne notice the freshman moving in and Cathy tells her friend, "There are some really tall freshman."
I don't know if I believe in first sight. It feels too cheesy for me. I, however, do believe in the power of personality and how it's conveyed through body language. Keith, the "tall freshman", is tall. More than that, he's charismatic, charming, and a true gentlemen. When Cathy and Keith saw each other for their First look, Cathy teared up. Keith's first move? He looked around nervously for a quick second, quickly demanded his brother's pocket square, and then hugged his bride as they laughed together. I have no doubt that this is how they always were – supportive, trusting, and always full of laughter.
Cathy and Keith told me about how they tag-team most things. In their vows, they mention lots of laughter, whether laughing with each other, or at each other. Cathy tells Keith that she will never forget that they are a team. They were excited to have a MOS Skyline Room wedding, not only to celebrate their love, but as a opportunity to be surrounded by loved ones as they make the commitment to each other.
Engaged at Acadmia National Park!The day started with bride and groom getting ready photos at the Beacon Hill Wyndham on Blossom St. I knew that Cathy and Keith were big adventurers. They had talk often about hiking, snowboarding and visiting National Parks (Enjoy camping at Yellowstone for your honeymoon!). They even were engaged at Acadia National Park. There were little details about the day that I don't think were necessarily planned, but to me, show a lot about their personality: ie: Cathy's bike shorts under her wedding dress (because they're comfy!"), a black Triggerpoint foam roller, and carrying all things of importance in a Timbuktu bag (ie: rings and vows!)
Their MOS Skyline Room wedding ceremony had a gorgeous city view!
The two headed to the MOS Skyline Room for their first look in the open-air Washburn Pavilion, overlooking Boston's Charles River, and close to MIT, where it all started. Their friend, George Hwang officiaited their wedding ceremony. Their ceremony was in the MOS Skyline Room a couple hours before Sunset. The Blue Wing, my favorite part of the Boston Museum of Science, was their venue for aneruptive and energetic reception and dance party!
Special thanks to Lisa from the MOS Skyline Room for being so flipping' amazing!